2016 Coach of the Year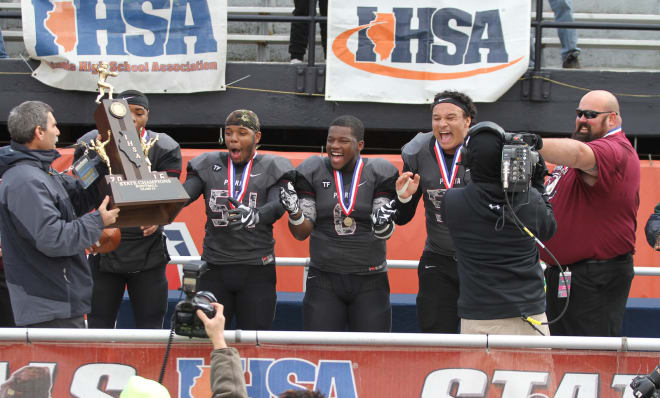 My 2016 State of Illinois Coach of the Year?
Back in Week 7 on a sunny day in Peoria, I really didn't know that Peoria head coach Tim Thornton would end up leading the Lions to it's first ever state football title. Heck after a horrible first half I didn't know if Tim Thornton could avoid getting a running clock put on his team. Yet I just had a feeling that day at Peoria Stadium something good was cooking at Peoria High.
My feeling about this Peoria team had actually very little to do with the Lions 42-40 come from behind win over Danville. Sure, seeing Peoria sit a handful of key starters early in the Danville game was a surprise, as was the 24-0 Danville halftime lead over the highly ranked Peoria Lions.
Needless to say my first thoughts was "wow I just made a trip to Peoria for this" to "maybe this Peoria team just isn't very good" to "maybe Danville can get that running clock and I can get back home early". Yet for some strange reason however I just had a feeling something could happen so I hung in there.
The result of my hanging in there? A furious come from behind Lions 42-40 win over Danville that wound up being one of the best games I saw live all year in 2016. I learned that day to never doubt this Peoria team's will to just hang in there and keep fighting.
Yet while the wins and the absurd amount of offense and points Peoria scored all season was also impressive...what impressed me even more about Peoria and head coach Tim Thornton was how he is handling his kids on and off the field.
Need proof?
The reason some of those key starters sat in the first half of that Week 7 win over Danville you ask? Those same kids broke team rules, sat out the first half and paid the price in one of the biggest games of the season. It would have been so easy for Tim Thornton and his staff to look the other way, especially with this game against Danville (on Homecoming) being a huge Big 12 conference showdown. Just find another "alternative" punishment or just look the other way, right? Easy.
Yet Tim Thornton didn't look the other way.
Thornton's transformation at Peoria since taking over the program in 2010 has been impressive. Thornton has a 52-24 record after seven seasons and now adds the school's first football state title.
Yet ask any of the players in the program along with those in and around the Peoria football community, it's much more than just wins. You'll hear words like family, responsibility and taking ownership mentioned as much as anything else when describing Peoria Lions football and Tim Thornton.
Thornton was able to take his own unique style and philosophy, then mixed in holding his kids responsible and accountable while doing the right things on and off the field. Thornton also brought together a once forgotten football community in a school and town known for hoops and made them believers. Mix in a very talented group of players who also bought into Thornton's plan, and the final results are pretty evident.
The Peoria Central football program was already winning in so many ways even before this season began. Yet the 2016 Class 5A first place state trophy no doubt brings it all together for the Lions.
Tim Thornton as my 2016 Coach of the Year in the State of Illinois? That was pretty much a done deal after Week 7.
Let's just say I had a feeling.