2016 Player of The Year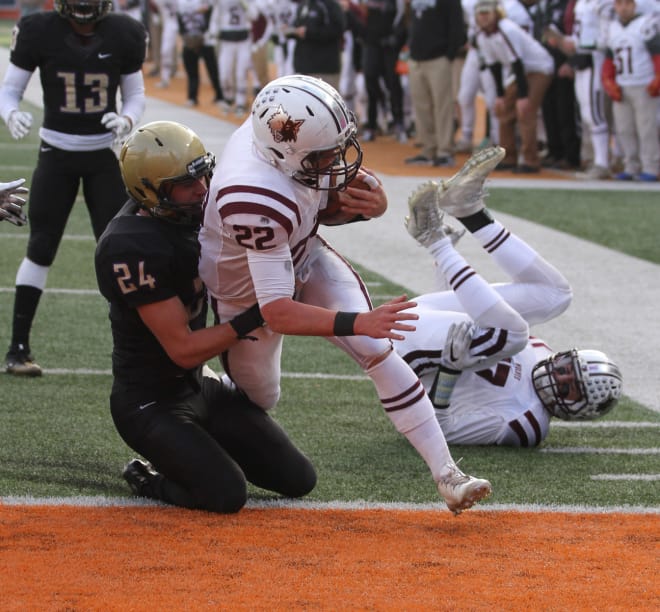 My 2016 State of Illinois Player of the Year?
Say hello to Prairie Ridge junior quarterback Samson Evans, one of the state's most dominant football players on the field and one of the state's most humble and down to Earth kids off the field.
How down to Earth?
"All of his success this season just doesn't phase him," according to Prairie Ridge head coach Chris Schremp. "Samson still doesn't realize how good he is.
Evans, playing in a era of hype and flash was simply all substance in 2016. While so many others talk, Evans just simply let's his play on the field speak for him.
Much like my 2015 Player of the Year in then Glenbard West and now Wisconsin RB Sam Brodner, everyone in 2016 who saw Prairie Ridge knew Evans would carry the football.
Everyone.
Evans was a marked man on literally every snap he took in 2016 yet still found a way to average nearly a first down every time he touched the football. Evans took hit after hit and never backed down. You might stop him for a short gain, then a play or two later he would be running downfield untouched for one of his 43 touchdown runs.
Evans who led the Wolves power option running attack ran for a very impressive 2,211 yards and 43 touchdowns and averaged a sick 9.6 yards per carry average. Evans also completed 29 of 52 passes (yes Prairie Ridge can and will pass the football) for 815 yards and 13 touchdowns. Strong numbers? Certainly, yet as the case in many Player of the Year winners stats alone don't tell the entire story.
Prairie Ridge scored an amazing 701 points in 2016 and at one point had 10 straight games of putting up a running clock (40 point lead) on it's opponents. That same running clock streak also stretched into the post-season as the Wolves put up running clock scores in the first three rounds of the Class 6A state playoffs.
Imagine Samson Evans overall stats in 2016 if he played in say more than just four games where he was still playing on the field in the fourth quarter. Yes...Evans was able to play in just four full games all season long and was pulled in most games by mid third quarter.
How can anyone be expected to pick this humble, hard working and somewhat quiet kid off the field as anyone's Player of the Year?
It's simple.
Samson Evans from start to finish was simply the best player in the State of Illinois in 2016.
Evans at times reminded me of a combination for former EDGYTIM.com Player of the Year Tom Zbikowski (Buffalo Grove/Notre Dame/Baltimore Ravens) along with pre-EDGYTIM.com standout QB Antwaan Randle El (Thornton Township/Indiana/Pittsburgh Steelers). Evans showed the combination of speed/power/determination and work ethic of Zbikowski mixed in along with the God given athletic skills start/stop/burst/wiggle/first step and break away ability of an Antwaan Randle El.
Yes...those are some big names and high praise and no...I'm not saying Evans is in that league...at least not just yet.
What I am saying is that Samson Evans in 2016 was simply in a class by himself.