PM Session: Top Headliners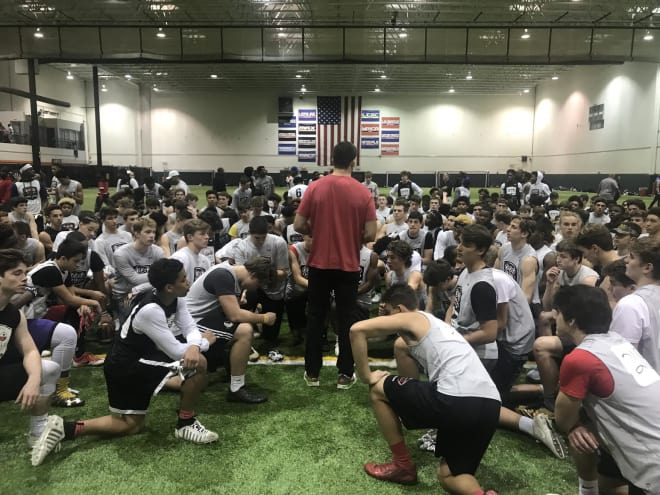 12- QB Jack Baltz Lincoln-Way East- Baltz is a big kid (6-foot-5, 185 pounds) with a very good arm and mechanics. Baltz, who transferred into Lincoln-Way East last summer had to sit in 2017 yet I feel has a real chance of becoming one of the top signal callers in the Class of 2019 in Illinois. Baltz just does a lot of things really well here.
23 DB Devin Blakley Nazareth Academy- Blakley is a very polished strong athlete who always performs at a very high level. Blakeley I feel has ideal cornerback traits and size for the FBS level. Blakley also has way above ball skills and just a great feel for the game.
36 QB Alante Brown QB Simeon- Brownalready has a handful of offers so far and it's pretty easy to see why. Brown throws a really good football but his biggest strength is is speed and sheer quickness/athleticism. It's also very easy to see why colleges are considering Alante more of an athlete type of recruit in the Class of 2019 capable of playing several spots on the field..
41 DB Marques Buford Jr. Bolingbrook- Buford Jr. is still just a 2020 kid yet he has been on recruiting radar screens for over a year. Exceptional ball skills, great speed and overall quickness here and Buford Jr. is also a very strong kid with a ton of upside. One of the top overall performers of the PM Session.
56 LB Cameroon Clay East St Louis- Clay was one of several top underclassmen from the East Side in attendance. Clay possesses a ton of physical upside including great length, speed and great ball skills as well. Has a chance to develop into a big time name.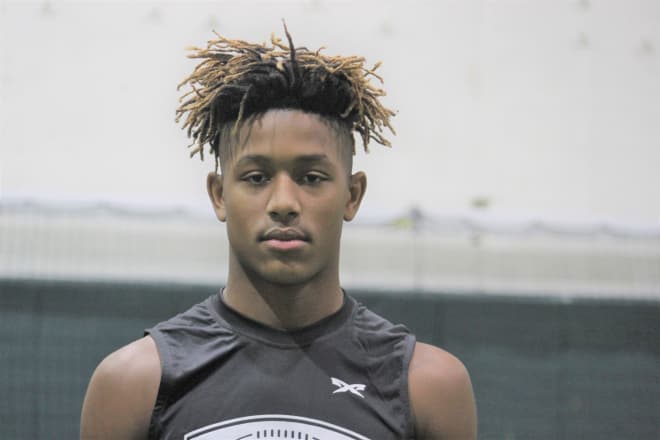 170 DB Antonio Johnson East St. Louis- Johnson is a 2020 name who might have some of the highest potential of anyone here on Monday. Johnson checks in at 6-foot-2, 185 pounds and will get even bigger and will fill out over the next few years. He showed impressive speed and is an exceptionally fluid runner. Johnson impressed with his on the field awareness and reads and body control. Johnson also has crazy length and reach.
174 WR Dino Kaliakmantis Antioch- a 2021 name and the brother of QB Athan, Dino was outstanding overall. Kaliakmantis, who had more than his share of wins against more higher profile DB's in one on ones at times reminded me of a young Mikey Dudek type of player.
175 QB Athan Kaliakmantis Antioch- Athan, yet another top 2021 kid might of been the best overall quarterback here on Monday. Kaliakmantis has good size, poise and throws a terrific football. Athan shows good touch and it's very easy to see why he is already drawing looks and offers at this early stage. Kaliakmantis is also physically mature beyond his age group as well.
185 DB Marquae Kirkendoll Simeon- I've seen Marquae a few times over the past 8 months or so and have continued to be impressed. Kirkendoll is a bigger sized defensive back who has good cover skills and plenty of length. Kirkendoll will need to add a bit more size and could wind up as a safety but has the overall tools and ability to become a pretty strong secondary player.
245 DB Ty Nubin St. Charles North- Nubin is very quickly becoming a major Power 5 name here. Nubin possesses all the tools to become a big time defensive back. Nubin can play as a big cornerback or as a safety at the college level. Great athletic skills and tools here, and Ty also has a great nose for the football. Nubin has also gotten bigger. taller compared to last season.
269 LB Lawaun Powell East St Louis- Powell is another Class of 2020 name that had a very solid 2017 sophomore season at receiver for the Flyers. Powell played some defensive back along with some linebacker here and handled both well. I'm still not sure on an eventual position at the college level but Powell I feel will be a D1 level names in the 2020 class.
370 RB Anthony Williams Jr Bolingbrook- Williams Jr. easily one of the top running backs in the Class of 2019 in Illinois and the Midwest. Williams Jr. is just a very fluid runner with tremendous God given athletic ability. Williams Jr. also has terrific size and could very well become a 215-220 pound plus big back at the Power 5 level. Williams Jr. also impressed in one on ones, showing impressive route running and hands.